About Andre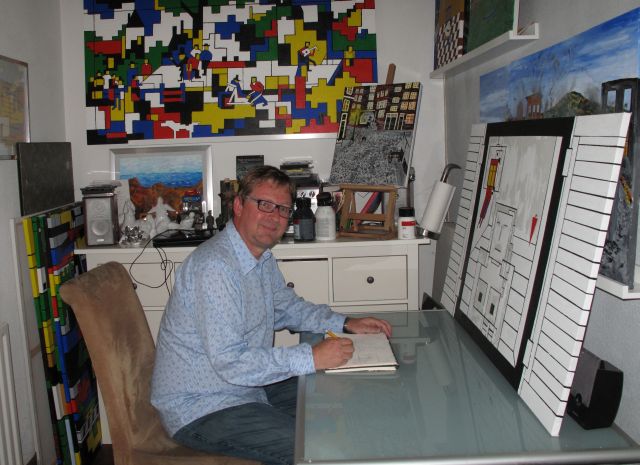 At work.....
Also available now :my books Fair and Square at bol.com and The borderline of art, New:Paintings and poetry


https://immaginepoesia.wordpress.com/2016/08/16/andre-schreuder-paintings-and-poetry/

PLEASE NOTE: ALL MY WORKS ARE MADE WITH REAL ACRYLIC PAINT ON REAL CANVAS!
AND IS NOT DIGITAL ART!!!!!!



Also on facebook: http://www.facebook.com/andreschreuderart

contact : aschreuder74@gmail.com

André Schreuder
Born in Delft, may 1960,
now living in Kerkdriel with Nelly and the kids.
My work is inspired by the works of the Impressionists,like Van Gogh and Mondriaan. I am a far nephew of Jan Schoonhoven member of the zero group (nul groep) and funny enough also with a normal dayjob and working on art in my sparetime.

As you can see in my paintings I try to bring back some realism in the use of the technique of Mondriaan; a little more colour and form.
The paintings I make are based on a positive attitude towards life as it is.
In 2006 I started with a remake of "Gezicht op Delft" by Vermeer, in a Mondriaan style.
I also did a remake of "De anatomische Les" by Rembrandt in a follow-up style of the Mondriaan principle.
The painting hangs currently in the reception of Oldelft Benelux BV in Veenendaal.
I hope you enjoy the paintings on this site and feel free to contact me.

The paintings are for sale.
André Schreuder
Geboren te Delft,mei 1960
Woont nu in Kerkdriel met Nelly en kinderen
Mijn werk is geinspireerd door de werken van de impressionisten, zoals Van Gogh en Mondriaan. Ik ben een verre neef van Jan Schoonhoven lid van de nul groep en gek genoeg ook ik heb een normale dagbaan en bezig met kunst in mijn vrije tijd.


In mijn schilderijen tracht ik een beetje realisme terug te brengen in de stijltechniek van Mondriaan,met een beetje meer kleur en vorm.
De schilderijen die ik maak zijn gebaseerd op een positieve houding naar het leven ,zoals dat is.
In 2006 begon ik met een herschepping van "Gezicht op Delft" van Vermeer, in een Mondriaan stijl.
Ik deed hetzelfde met "De Anatomische les" van Rembrandt ,maar dan met een uitbreiding van de kleuren.
Dat schilderij hangt nu in de ontvangsthal van Oldelft Benelux BV in Veenendaal.
Ik hoop dat U de schilderijen leuk vind en als U er iets over kwijt wilt, kunt u mij emailen.

De schilderijen zijn overigens te koop.